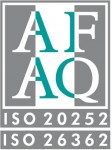 As a part of our quality strategy we were proud to obtain ISO 26362 certification at the beginning of the year for our access panel of French internet surfers.
Repères is the first market research company in France to obtain this certification which guarantees compliance with the best practises for the management of an access panel as defined by the profession.
This is a part of our Web strategy:
Since 2006, we have greatly invested in the Web with the aim of renewing research protocols by using new technologies.
This has led us to develop our own platforms such as the one used for the Home Use Blog or to explore new territories such as Second Life, in which we have set up an access panel of more than 10 000 avatars from all over the world.
All this research and experimentation has enabled us to acquire in-depth expertise in the field of online research and the creation and management of Internet panels.
Last year, we created a Web Development department, with three people under the management of Christophe Desgouttes, and dedicated to:
We have thus been able to recruit French Internet surfers for our own access panel and have gradually started to insource our online studies (our international online studies are still conducted with partners, namely SSI).
This strategic choice of insourcing enables us to offer our clients more competitive prices, while guaranteeing the quality of the information gathered.
The Repères panel is composed of 27 000 people today, with an objective of 50 000 people within the next year.