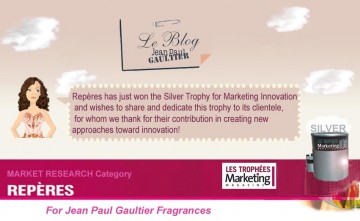 The Repères Community Hub was created in the autumn of 2006 with the aim of devising and implementing new marketing study approaches, and to do so by activating new web platforms (collaborative sites, virtual worlds, online communities…).

To this day the contributions of the Repères Community Hub consist of the implementing of co-design protocols or more generally speaking collective intelligence collaboration procedures.

To our great satisfaction these initiatives have provoked a positive response from the profession which has acknowledged them. After last year's Gold Trophy for our introduction into Second Life, we are proud to have been awarded another prize by the jury of professionals assembled by Marketing Magazine.

The prize-winning project this year concerns a Jean-Paul Gaultier Parfums "Research Community": we have worked for the brand to set up and moderate the community of sellers in permanent contact with the marketing team.

This community:
. provides access to knowledge, with a constant relay of information from the field,
. provides opportunities for exchanges, with the sellers who are able to react in a qualitative manner to the new product launches, and point-of-sale projects,
. provides an opportunity for collaboration and co-design for new offers and marketing operations.

This prize is all the more gratifying since it relates to a new field high in potential, namely in BtoB: the deployment of procedures aimed at activating the collective intelligence of networks.

I would like to thank the Repères Communities team, Emilie Labidoire, Christophe Desgouttes and Stéphanie Hahn, as well as Jean Paul Gaultier Parfums, and more particularly Fany Péchiodat who entrusted us with this project.