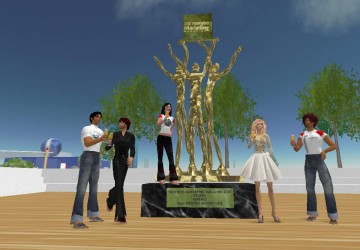 On May 22 last, we had the pleasure of receiving the Marketing Magazine Innovation Trophy 2007 in the Studies category.

The profession rewarded our installation in Second Life, Repères having accomplished a world premier by developing a market research activity in a virtual world.

Obviously we are very happy and proud of this award, and I take this opportunity to once again thank the whole Repères Second Life team: Emilie Labidoire, Christophe Desgouttes, Hailong Xia and Moragh McVicar.

This award is timely in that it comes as a crowning achievement following a very fruitful first six months of Repères in SL:
. We are now well established within the SL community, following the exploratory studies we have conducted and published (cf. the Repères Second Life site) and following the organisation of design competitions (Repères showroom, Fabrique du Future Building, The Halles Gardens in Paris)
. our panel includes 8000 original residents from all countries ready to take part in qualitative and quantitative research as well as in co-creation projects,
. within the next few days we will be launching our first research project commissioned by a customer (in our initial plan, we expected our first order only after a year in activity...)
. And more generally speaking our presence in SL has given us the opportunity to take part in many events in France and abroad and to present the different tools used by Repères.

In conclusion I would like to stress that our presence in Second Life is perfectly consistent with the strategic vision for the next 5 years that we have defined for Repères – Passion for Research:

To be in 2011 the research institute:
connected worldwide and constantly renewing and updating the tools of the profession by being a reference in terms of methodology and innovation

An entrepreneurial vision that is indeed ambitious, but also clearly has the power to mobilize… and is rather fun.