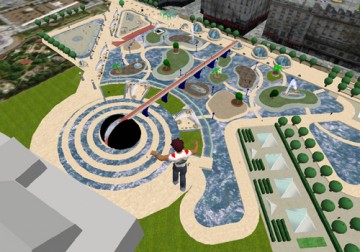 Joshua Culdesac and Piper Pitney are the winners of the competition "Call for collective design for the Jardin des Halles" initiated by the association Accomplir, the agency Pourquoitucours and Repères. The jury found the creative approach in the design of the Garden of Islands proposed by Joshua Piper especially appealing.

The garden proposed by Yaox Bruner awarded the "public prize" following the votes of the Repères Second Life panel: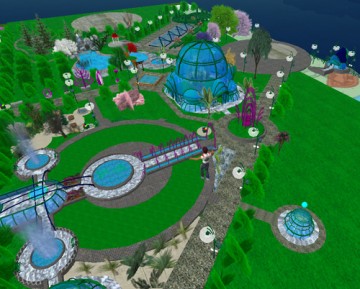 Lastly we would like acknowledge the quality of the proposals of all the participants, which may be seen during the whole summer on the Repères Second Life Islandor on video youtube.

This competition was principally aimed at accompanying the Accomplir Association in its fight against the project selected by the Paris City Hall. The objective was not to create the future Jardin des Halles but to prove that other designs were possible which associated creativity and compliance with certain spécifications. The final objective of the members – volunteers – of the association Accomplir being to convince the Paris City Hall to abandon the project and to launch an official competition for the garden.

We do not yet know what will be the outcome of this process but it is clear that Accomplir has made a clear statement in favour of its case thanks to Second Life; the association has benefited from wide media coverage enabling it to express its views (articles in Le Parisien, Paris Obs, Matin Plus, Lemonde.fr, lexpress.fr , BBCnews) ...And has effectively countered any criticism as to its alleged support of the status quo or rejection of innovation.

As for Repères, our action as a sponsor of this competition has enabled us to validate once again the relevance of Second Life as a platform for co-design, even for Real Life uses.