Among the types of studies that may be conducted in Second Life, one area that seems particularly promising to us is that of co-creation: Businesses today are aware that they cannot innovate inside laboratories behind closed doors and that innovation will be successful if it is partly conducted by calling on collective creativity (see the book "Fabriquer le Futur 2" (Creating the Future 2, co-written by Pierre Musso, Laurent Ponthou and Eric Seuillet, who is the president of Fabrique du Futur).

These approaches will develop and are precisely a part of the societal trend of the "Participation generation" described by Thierry Maillet in his latest book "la Génération Participation". Citizen/consumers are increasingly seeking direct dialogue with the brands and expect them to take into account their proposals.

We believe that Second Life is an ideal platform for this process of co-creation, namely because it allows those who wish to do so to provide their creative input to the brands and to present their designs under the form of 3D prototypes. Prototypes that may then be evaluated by other residents…

To activate this co-creative process, the organisation of a competition is amusing, stimulating and well-adapted to Second Life.

Our first experiments in this direction have been very positive. The first competition we launched, a building competition for a Repères showroom, was initially intended to propose an event for our panellists and to test the principle of competitions. The result is exceptional and I invite you to admire the design, presented in the next two snapshots, by Joshua Culdesac and Piper Pitney on the Repères Second Life island.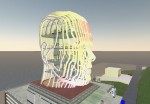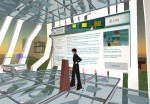 You will also find more information on this design and its creators on the Repères Second Life site.

The other competitions we have organised so far, have also been conducted experimentally by our panel, and we have found it more interesting and of greater impact to conduct this work for the benefit of partners who do not necessarily have the means to benefit from our services normally.

We are therefore moving towards two types of co-creation processes in SL:
. Operations for the brands, invoiced according to our usual conditions,
. and, for the purposes of communication and events organisation, joint operations with associations whose projects we support, with a sharing of the costs.